Friend from college Lucas posted #coronabeats in Berlin. We collabed. Here's what went down.
Stay safe.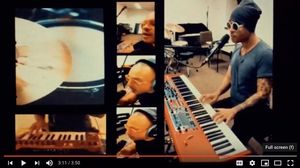 Fun facts if you're still reading: 'Still We Shiver' belongs to a catalog of songs i've never released and only use as material to interpret in multiple manners till now. 
Also, piano was recorded with a Zoom V6 custom handheld Unidirectional Mic. I later added the audio from the iphone video as well.
ALSO (!)  the LoFi video aesthetic wasn't just #glitcheapp and #enlightvideoeditor, it was also #FCPX crashing incessantly when trying to export leaving me with no choice but to record my laptop screen with my iphone and then process with the apps.
EDIT: HD version online now HERE