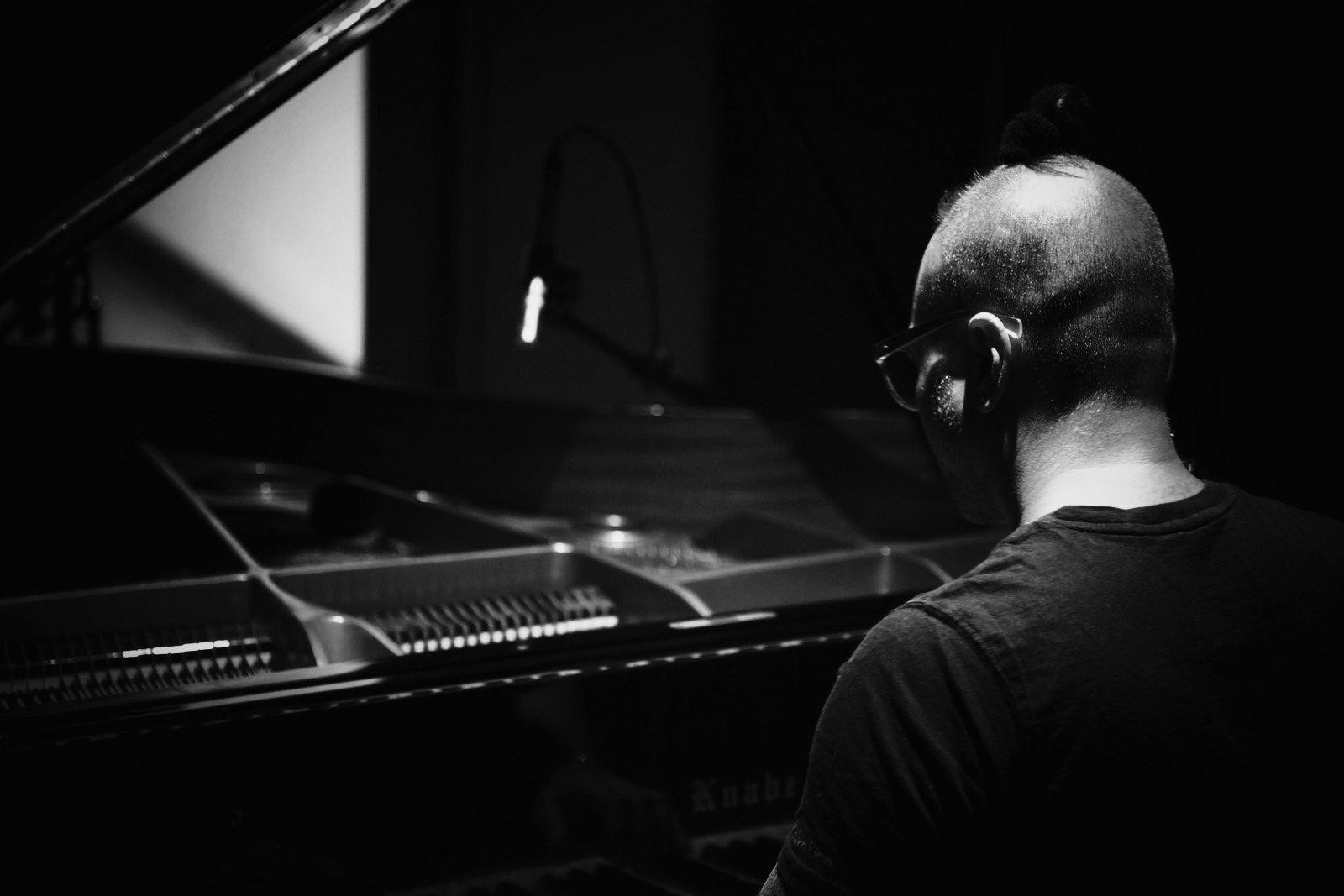 EveryNowHere // T.L. Mazumdar's latest EP 'Sepia' is a deep dive into the correlations between songwriting and the subconscious mind, with revisits of songs, some of which were written as an adolescent amidst domestic unrest, cultural crossfire, and a losing battle with belonging. 
Recorded live in the heart of southern India while stranded during the last lockdowns of the pandemic at Iconic Indian Composer A.R.Rahmans most prized Steinway with friend Hans Zimmer's signature etched onto its body (the piano was a gift of admiration for Rahman), Mazumdar dances with his childhood demons confronting Post-Traumatic Amnesia after a 5-year-long (ongoing) journey with therapy. 
ARTIST STATEMENT 
'There is a good chunk of my childhood my brain refuses to acknowledge. Buried in corners it's tried to hide from me for 22 years now. 
One of the things the pandemic resulted in was an archaeological expedition into these memories when I started spending longer spells in India for the first time as an adult, to be closer to my elderly parents. Even as my apartment and bedroom studio in Germany got destroyed by a water leakage, and my flights kept getting canceled. 
I'd been on tour regularly in India at a phase of my life. But actually trying to build a base here felt like a slap in the face. 
The elitist accessibility to what I'd grown used to think of as basic musical amenities like a piano or a music room. The mammoth gaps in mindset despite what social media aims to portray as a 'global' space. Being attacked on the street for speaking with a non-local accent. 
And my role in it all as a brown, European male with an Indian name. With a lineage of ancestors who've been rootless for almost three generations now. 
The only tangible remnant of my childhood in London is a piano that my father had shipped when he moved the family to India.  At the time I thought we were on holiday. Until I realized we weren't. And that piano was all I had left of the home I'd left behind. 
This was a pre-internet, pre-globalized India. The feelings of uprootedness, my parents struggling marriage, my refusal to conform to local social structures amidst the upheaval of the post-colonial Indian dream, and my utter failure to navigate the Indian education system eventually led to one of the darkest phases of my life. One which ended in a hospital after my second suicide attempt. I hadn't hit 15 yet. 
My association with the KM Music Conservatory had actually started a decade ago while on tour for the Goethe Institut. Fast forward to 2022 I reached out with an SOS of sorts when I couldn't find a suitable space to work on my Master's Degree portfolio. 
(Artistic Director) Dr. Adam Greig and the KM crew in Chennai and Mumbai opened their doors with an all-access pass to work at their facilities. I've been artist-in-residence since. 
These songs were material for my research papers: Songwriting and the Subconscious Mind and 'The Piano in India: A Colonial Hangover?', both of which I just completed with my supervisor John Matthias (Radiohead/Thom Yorke/Matthew Herbert) at the London College Of Music. 
Sitting at that piano that belonged to a childhood hero of sorts, singing these songs in front of an audience of these brilliant young Indian artists...it was all a bit surreal.  A circle. I'd like to think it's been a healing journey. Working amidst these young, emerging Indian artists I see a bit of my earlier self in. Knowing they have access to a support system I didn't. Community. Safe spaces. 
CREDITS: 
T.L. Mazumdar: All Piano & Vocals 
Sebastien Heintz: Guitars & Electronics 
All Songs Written & Produced by T.L. Mazumdar 
Guitar Arrangements : Sebastien Heintz 
Recording Engineer (Piano/Vocals): Pradvay Sivashankar 
Recording Engineer (Guitars/Electronics): Sebastien Heintz 
Produced by: T.L. Mazumdar 
Live Production, Co-ordination & Set Production: Adam Greig / KM Student Body 
Mastered by: Yosi Horikawa 
(Recorded in front of a live studio audience at the KM Conservatory, Chennai, India. Oversea performance recorded as live overdub in Lausanne, Switzerland.)
Download Sepia Directly On the ENH Website